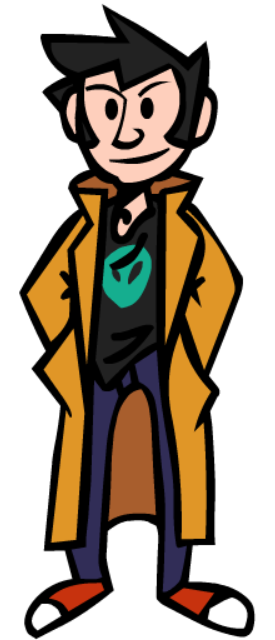 ok so basically you play as this guy and he's a dectective but he actually isn't he's just a coocoo conspiracy theorist who thinks he's a dectective but on that note he has some pretty good detective skills but nobody calls on him to solve their mysteries because they think he's just fuckin nuts.
the game starts out in with you running around in your shithole apartment because your rent payment and you just need forty bucks to pay it off. 
so you begin your quest go around town askin people if they have any mysteries you can solve and of course they tell you to bugger off but eventually you find a missing cat flyer with a reward of 40 dollars so you return the cat but on the way you battle with many different bizarre enemies to fight and you realize that your theories were at least partially right. turns out the world is suddenly overrun with weird occurences from talking animals from aliens to people inexplicably going apeshit, some even gaining superpowers. as the only one crazy and or stupid enough to get to take on such a case, you take action and vow to get to the bottom of whats causing all this crazy crap!